At least once a year, Osijek is the place to be, at least if you're involved with Magento like we are. Like last year, this year we also attended Meet Magento Croatia organized by Inchoo. And, like last year, we weren't let down – the agenda was packed with content, from highly technical topics to panels with merchants talking about what makes web stores successful. This year, a special focus was on PWA applications and storefronts, which are the inevitable future of eCommerce.
Magento Contribution Day
We kicked off with Magento Contribution Day, which took place in InchooHQ. Although past Magento Contribution Day before MM17HR gathered more people, this year, in a "space room" we managed to cram in 7 pull requests to Magento 2 repository – WOOM made special effort to contribute fixes for 3 separate issues. It wasn't only hard work and no chat – we spoke with Antun and Neven and exchanged interesting experiences and "war stories" developing on Magento 2.
WOOM made special effort to contribute fixes for 3  separate issues
The best part of Magento Contribution Day, besides being able to "edit the core", was the pre-conference party, which was a bit later, in the same place. Spot the before and after pics: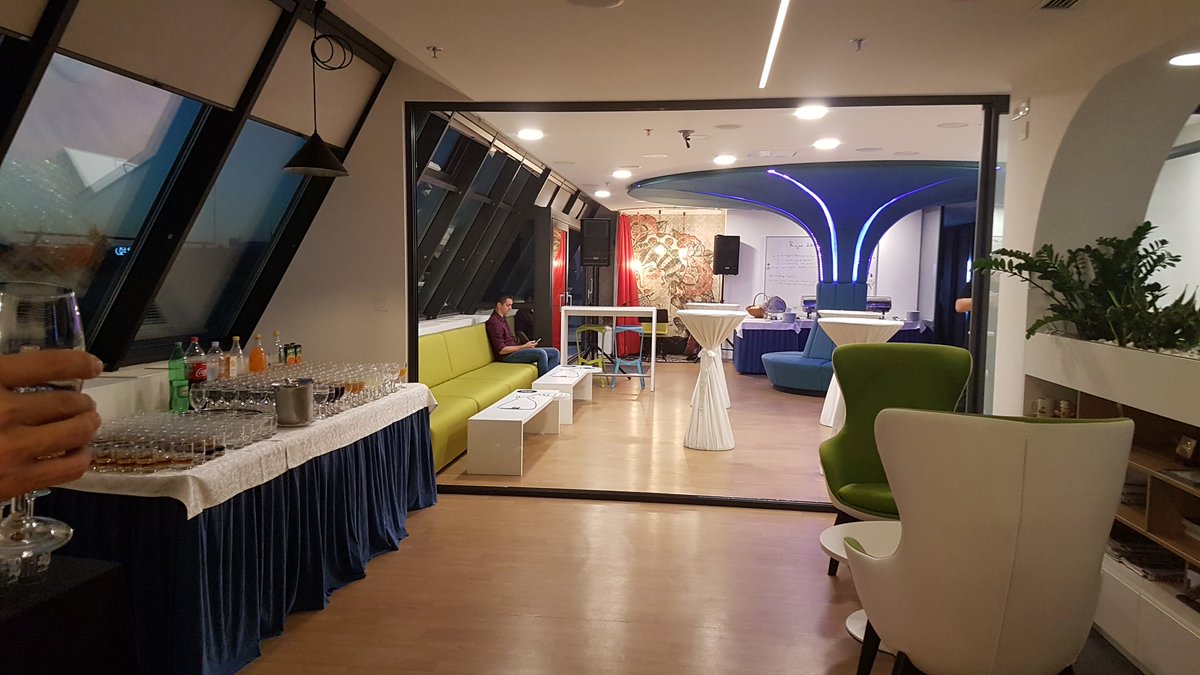 Unfortunately, we don't have any "after pre-party" pics – hope no one does 😇
Pre-conference party
This was a chance to reconnect with old colleagues like Boris , who left his position at large corporation to work closer to programmers, and enjoys dancing on a large "ledina" behind his house.
"eCommerce Hrvatska" association was also at the pre-conference party – Marcel and Dino don't look anything like their photos, but are as interesting company as their online personas are. The association has a valuable cause – informing and educating merchants selling online in Croatia. This is even more important now that global brands are expanding to new markets, and local merchants are looking towards expanding their online stores to other countries in the region.
This was also time to talk with representatives of "Magento Community Engineering" team – Vladimir and Eugene , who shared a small part of what happens "behind the scenes" for some issues and pull requests. Even if it seems easy, there's more to processing pull requests and issues that one sees on public GitHub repository. If we'd have to pick a most interesting topic, that'd be Magento MSI , which is now in beta and ready to be tested.
Seems like some integrators are already starting work on projects which include Magento MSI and are reporting it's pretty stable for use. It's also interesting that MSI will probably work as drop-in replacement for current Magento Inventory module – you can use it even if you don't have multiple warehouses, which is great, as you can always add one later on and use MSI to full extent!
Conference
Plenty of topics ranging from performance optimization, GraphQL introduction, to Vue storefront introduction were presented on development track. Particularly interesting was a presentation by Karen Baker about ShipperHQ  – so much that I'm happy we met during lunch and discussed how running business affects personal live, our future plans and variety of other topics. Karen is a good company and easy to talk to – running ShipperHQ and having years of experience behind her, it's understandable she'll have an ear for people. Happy to have someone with these qualities working with merchants (some of which run Magento!). She has a great announcement she's saving for MagentoLive Barcelona, so we'll be keeping an eye for that.
During development track, we were also present on some presentations on business track, learning more about using Instagram in eCommerce and data-driven marketing.
Boat party on BrodWay  after first day of the conference was exactly what was needed to make people talk to each other more and loosen up a bit. Spoke and had fun with lots of people, including Inchoo team which was highly involved organizing the conference, merchants based in Croatia which are migrating to Magento 2 platform from their dated custom system and colleagues we worked with in the past. We also said hello to Zvonimir and Saša from SysBee, who are always on call, but can apparently find time to party. 😄
The second day of conference started early with traditional MageRun – which gathered about a dozen people after sunrise to run 5km around beautiful city of Osijek. PWA was heavily represented in presentations right off the bat, which everyone watched with excitement. "The Magento Modern Family" was a great panel (or stand up show?) moderated by Ignacio, which highlighted the issues we all saw during development – each role always blaming someone else for something that happens.
The panel at business track wasn't that fun, but had tons of valuable information for merchants. Panelists from various areas gathered together to talk about what makes web stores successful, which, inevitably, ended with a bunch of questions on shipping. Panel took a bit longer than expected, but the surprise afterwards was a nice one – we watched one of the projects we worked on win an award for best Magento store in Croatia – https://svijetvode.com/
During closing speech, we learned about this being a last Meet Magento Croatia event under current "Meet Magento Association" umbrella, as newly formed "Magento Association" will be taking over it's role in the future.
In summary, the conference this year was as valuable experience as the one in 2017. To all the attendees to future Meet Magento (or any other conference events),
we'd recommend that you don't focus as much on presentations as much as connecting with people.
Be the one that approaches other people and starts talking – slides from presentations will be available online after the conference anyway. Talking to people makes events much more fun, as you can hear stories from people living all over the world.